Special Education Professional Development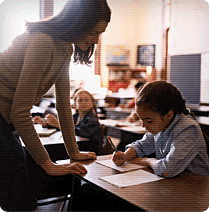 State-specific Special Education professional development
Special Education professional development is available from a variety of different providers, most of whom offer generic seminars and workshops to school districts nationwide. It is important to note, however, that there are vast differences between special education requirements and best-practices from state to state. So it makes sense to select a professional development provider who has state-specific expertise.
The Centris Group provides Special Education products and services created especially for school districts in New Jersey.
The right trainers and expertise
Centris Group's trainers have a track record of success serving hundreds of school districts. Our training consultants include former Directors of Special Education/Special Services, Assistant Superintendents, State Education Department Supervisors for Special Education, State Regional Consultants, Psychologists and Teachers.
This means that we know the state-specific requirements and best-practices from firsthand experience, and we have the ability to understand the needs of your particular district. Our trainers speak your language and work the way you work, in effect becoming an extension of your staff.
The right topics
We will work with your school district to design professional development programs which meet your unique needs. With Centris Group, you can be sure that the content is based upon state-specific Special Education requirements and best-practices. These are just some of the most requested topics we cover:
IEP meeting facilitation
Special Education compliance
Writing measurable goals
State aid recovery
Process management
Data-driven decision making
Response to intervention plans and implementation
Customized programs
…and much more.
We can also address any subjects of particular concern to your district.
The right delivery
Centris Group's development programs are available in a variety of different formats:
Onsite seminars and workshops
Recurring consulting sessions
Regional conferences
Webinars
Call the Centris Group and see how easy to implement – and affordable – our professional development sessions can be. After all, we're Special Educators ourselves and recognize the constraints your School District must work with, in terms of both time and money.